Keynote Speakers
Jay Penton

Jay Penton is 53 and lives in Prattville, Alabama with his wife Dana of 26 years. They have 2 adult children. Jay has been in...
Rex Tignor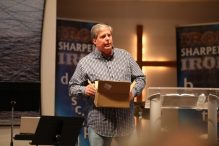 Rex Tignor's heart and passion is helping men unlock their God-given potential, and helping churches build an effective ministry for men. He is the author of Living Out of the Rut, Boot Camp for Men, Just Show UP!, and co-author of Be Intentional: Devotional Conversation Starters for Men.
Downloadable Materials
Click Below
A Grandfather's Legacy

This seminar is for SEASONED MEN (age 55+)
Rex Tignor, • Iron Sharpens Iron • Richmond, VA
Being A Man Of Influence

Mike Rivera, • Brockton Assembly Of God • Brockton, MA
Conflict: It Doesn't Have To Be A Combat!

Larry Leak, • Just Stand Firm Minsitries • Springfield, MA
Essentials of Manhood and Marriage

Jay Penton, • Stand Up Men • Birgmingham, AL
Let Boys Be Boys

Bill McCall, • TrailLife • Belton, SC
Pornography: The Christian Drug Of Choice

Rick Kardos, • The Nathan Project • Goffstown, NH
Raising Godly Boys Into Godly Men

Bill McCall, • TrailLife • Belton, SC
Standing Firm

This seminar is for EMERGING MEN (age 13-19)
Larry Leak, • Just Stand Firm Ministries • Springfield, MA
The Do's and Don'ts of Ministry To Men After Covid

This seminar is for MEN'S MINISTRY LEADERS
Rex Tignor, • Iron Sharpens Iron • Richmond, VA
W-O-R-K: More Than a 4 Letter Word

Jay Penton, • Stand Up Men • Birgmingham, AL
Location:
Church Of The Rock
1091 Fairfax Rd
LIVE ON SITE Saint Albans, VT, 05478

Host:
Iron Sharpens Iron
41 Crossroads Plaza Suite 168
West Hartford, CT 06117
860.233.8136
https://www.ironsharpensiron.net/