Keynote Speakers
Dennis Rainey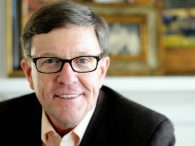 In 2013, Dennis Rainey joined Iron Sharpens Iron for a pivotal and encouraging message highlighting the journey into manhood. Dennis is Co-Founder of FamilyLife, hosted a daily radio program and is the author of numerous books on marriage and family. Mr. Rainey describes five steps in a man's life, challenges us to identify the step we're on and urges us to take the next step up.
Announcements
There is no cost to for this. Click REGISTER FOR THIS CONFERENCE and signup in order to be granted access to the virtual event.
In this exciting BEST OF ISI one hour video, you will get to experience worship, keynote messages from Dr. Tony Evans in 2011 and Dennis Rainey in 2013, as well as an exhortation from ISI National Director Brian Doyle.
Location:


VIRTUAL CONFERENCE Best of ISI Hartford, CT

Host:
Iron Sharpens Iron
998 Farmington Avenue, Suite 101
West Hartford, CT 06107
860.233.8136
https://www.ironsharpensiron.net/