Keynote Speakers
Bill & Pam Farrel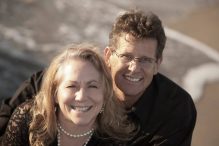 Bill and Pam Farrel are relationship experts, international speakers, and Directors of Love-Wise. They have been married and in ministry for 37 years.  Bill...
The ISI Marriage Conference is designed to equip couples with twelve different seminars and two keynote sessions in a shortened one day format.
In 2019, ISI offers two conferences on two dates in two different locations with registration starting at only $49.50.
Please see below for the confirmed seminars for the ISI Marriage Conference in Bloomfield CT on October 19th.
Communication: The Lifeblood of Relationships

Willie Batson, • WCBatson Consulting • Somersworth, NH
God's Plan For Healing Emotional Pain In Marriage

Mike and Wendy Behar, • Unlimited Discipleship • North Central, FL
How to Defeat the Four Marriage Killers

Willie Batson, • WCBatson Consulting • Somersworth, NH
Marriage In The Fast Lane

Bill and Pam Farrel, • Love Wise • Oxnard, CA
Men Are Like Waffles, Women Are Like Spaghetti

Bill and Pam Farrel, • Love Wise • Oxnard, CA
Red Hot Monogamy

Bill and Pam Farrel, • Love Wise • Oxnard, CA
The Heart Of Acceptance

Bernie and Gale Norman, • ISI Marriage • Brooklyn, CT
The Marriage You've Always Wanted

Rob and Billie Thorpe, • • Little Rock, AK
The Supremacy Of Christ In Your Marriage

Crawford and Karen Loritts, • Fellowship Bible Church • Roswell, GA
Your Marriage Now And For Generations To Come

Crawford and Karen Loritts, • Fellowship Bible Church • Roswell, GA
Location:
The Rehoboth Church Of God
1170 Blue Hills Ave
Bloomfield, CT, 06002

Host:
Iron Sharpens Iron
998 Farmington Avenue, Suite 101
West Hartford, CT 06107
860.233.8136
https://www.ironsharpensiron.net/