Keynote Speakers
Jeff Kisiah

Jeff Kisiah (Coach K) has been a Men's Pastor since 1985. He founded MVP (Men of Valor & Prayer), which involved 500+ men from Charlotte, NC. He served as the National Field Director for Man in the Mirror, coaching 100+ Field Staff. He launched "The Intentional Way with Coach K" in 2018, expanding on his experience from speaking to men in 42 States and building on ministry expertise from consulting with 1000+ churches.
Ray McElroy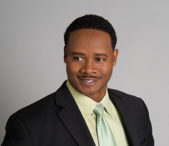 Ray McElroy is a former NFL football player spending six seasons with the Indianapolis Colts, Detroit Lions, and the Chicago Bears. A native of Chicago, Proviso West High School alum, and graduate of Eastern Illinois University, Ray served as Team Chaplain for the Chicago Bears Organization from 2008-2013.
Annoucements
Join The Men Of Your Church At This 2018 Conference Location:
Bellevue Christian Center Be sure to request your free Conference Church Packet to help mobilize the men of your church.
13 Reasons To Live - Silencing The Seduction Of Suicide

Jeff Randell, Executive Director • Platte Valley Youth For Christ • Grand Island, NE
Building Men With Others In Mind

Clark Osborn, Midwest Regional Director • Real Momentum Ministries • Omaha, NE
Coaching Men In The Locker Room

Jeff Kisiah, Executive Director • Band Of Brothers • Charlotte, NC
Fine Tune The Skills Needed For Your Time Alone With God

John Degner, Chief Operations Officer • Every Man A Warrior • Lincoln, NE
God's Design For Sexual Blessing

Jeff Randell, Executive Director • Hidden From View Ministries • Grand Island, NE
Grandfathering - Live To Leave A Legacy

Clark Osborn, Midwest Regional Director • Real Momentum Ministries • Omaha, NE
How's Your Casting? - Why You Never Give Up On Reaching Men For Jesus

Charlie Moore, Sr. Pastor • Sunnycrest UMC • Sioux Falls, SD
Lead with Conviction

Steve Spicer, Co-Founder & President • Marked Men for Christ • Denver, CO
Teaching Boys The Way Of Men

Zeke Pipher, Founder & Director • The Wild Mountain • Central City, NE
The Passivity Of Adam & The Control Of Eve

John Holmes, Vice President • Grace University • Omaha, NE
Turbo Charging Your Walk With God Through Short Term Missions

Terry Baxter, Co-Founder • GoServ Global • Eagle Grove, IA
Where is God When Life Hurts?

Ray McElroy, Founder & Chaplain • Ray of Hope, Chicago Bears • Chicago, IL
Who's In Your Foxhole?

Jeff Kisiah, Executive Director • Band Of Brothers • Charlotte, NC
Location:
Bellevue Christian Center
1400 Harvell Dr
Omaha (Bellevue), NE, 68005

Host:
Real Momentum Ministries
2217 S 153rd St
Omaha, NE 68144
4029684006
http://realmomentum.org/