Keynote Speakers
Dr. Gary Rosberg
Dr. Gary Rosberg is an award winning author, popular radio host and international conference speaker. Together with his wife Barb he founded the international ministry of America's Family Coaches. His ministry addresses the needs of today's marriages with wonderful insight and biblical truth. Gary has co-authored over a dozen well known marriage and family resources, including 2 DVD series. He has 25 years of experience conducting marriage conferences nationally and internationally as well.
Rex Tignor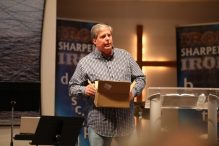 Rex Tignor's heart and passion is helping men unlock their God-given potential, and helping churches build an effective ministry for men. He is the author of Living Out of the Rut, Boot Camp for Men, Just Show UP!, and co-author of Be Intentional: Devotional Conversation Starters for Men.
Annoucements
Join The Men Of Your Church At This 2019 Conference Location
Seminar & conference information will be posted here shortly. Be sure to request your free Conference Church Packet to help mobilize the men of your church.
Location:
First Baptist Church
360 Canco Rd
Portland, ME, 04103

Host:
Iron Sharpens Iron
998 Farmington Avenue, Suite 101
West Hartford, CT 06107
860.233.8136
https://www.ironsharpensiron.net/