Keynote Speakers
Reggie Dabbs

Born to an unwed teenager who at one time considered abortion as a viable option for solving her "problem," Reggie Dabbs considers himself fortunate to be alive....
Rex Tignor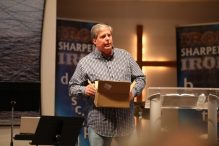 Rex Tignor's heart and passion is helping men unlock their God-given potential, and helping churches build an effective ministry for men. He is the author of Living Out of the Rut, Boot Camp for Men, Just Show UP!, and co-author of Be Intentional: Devotional Conversation Starters for Men.
10 Things Most People Don't Know About Porn

Mark Denison, • There's Still Hope • Bradenton, FL
Are You In Need Of A Turnaround?

Ken Paxton, • Author/Speaker • Baton Rouge, LA
Building the Winning Team to Reach Men

Kevin Gregory, • Man In The Mirror • Sanford, NC
Friendship: What's at the center of yours

This seminar is for EMERGING MEN (age 13-19)
Mike Whitmer, • Disciple 1 Ministries • Richmond, VA
Grandfather & Fatherhood Tune UPs

Rex Tignor, • Iron Sharpens Iron • Richmond, VA
How To Start An Outdoor Ministry For Boys In Your Church & Community

Rick MaGee, • Kids Outdoor Zone • Martinsville, VA
Live Life To The Fullest - Die Empty

Keith Collins, • Rise Above Consulting • Davie, FL
Overcoming Procrastination

Rick Grubbs, • Life Changing Seminars • Salisbury, NC
Redeeming the Time

Rick Grubbs, • Life Changing Seminars • Salisbury, NC
Taming the Anger Monster in Marriage

Willie Batson, • WC Batson Consulting • Somerwsworth, NC
The Intentional Leader

John Berry, • C12 Group • San Antonio, TX
What Road Are You On?

This seminar is for EMERGING MEN (age 13-19)
Larry Leak, • Just Stand Firm Ministries • Wilbraham, MA
Who's Your Momma And Who's Your Daddy

Reggie Dabbs, • Author/Speaker • Ft Myers, FL
Why Not You? Not Scars But Stories

Mike Whitmer, Disciple 1 Ministries • • Richmond, VA
Location:
Pine Valley Baptist Church
3940 Shipyard Blvd
LIVE ON SITE Wilmington, NC, 38403