Keynote Speakers
Arnie Cole

Arnie Cole is a pioneer in his field of research which led him to become founder and CEO for three organizations that specialized in training for people with severe disabilities. After turning to Christ he became Vice President for Mission Aviation Fellowship. Dr. Cole currently serves as CEO for Back to the Bible and Director of Research for the Center for Bible Engagement in Lincoln, Nebraska.
Mark Jobe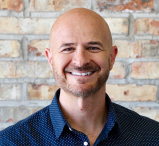 Mark is the lead and founding pastor of New Life Community Church in the city of Chicago. He and his wife Dee have seen New Life grow from a handful of people to several thousand meeting at over 20 locations with over 40 worship services each weekend. Mark is also the founder of New Life Centers, an organization focused on helping youth in underserved areas of Chicago (www.nlcenters.org).
Annoucements
Join The Men Of Your Church At This 2019 Conference Location
Seminar & conference information will be posted here shortly. Be sure to request your free Conference Church Packet to help mobilize the men of your church.
Location:
First Assembly of God
30 Tyler Prentice Rd
Worcester, MA, 01605

Host:
Iron Sharpens Iron
998 Farmington Avenue, Suite 101
West Hartford, CT 06107
860.233.8136
https://www.ironsharpensiron.net/